Biography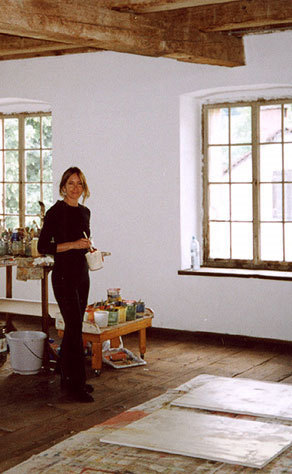 Jan as visiting artist - studio of Pepo Pichler Schmelzhofen, St. Margarethen, Austria June 2002
Jan Marie Sessler has been living and working as an artist in Taos, New Mexico since 1993. Her work is in collections in Austria, Italy, Germany, Mexico, Guatemala and throughout much of the United States. In 2008 she was awarded a grant from the Pollock-Krasner Foundation in New York City.
Jan is currently exhibiting in Contemporary Art Taos / 2020 at the Harwood Museum of Art in Taos, New Mexico through early May 2021. In 2005, also at the Harwood Museum of Art, she had her first one person museum exhibition, Jan Sessler: Works on Paper. In 2018 Jan exhibited in Non-Objective Taos at 203 Fine Art in Taos, New Mexico.
Jan holds a B.A. in International Studies from Miami University in Oxford Ohio and has studied art at the University of New Mexico in Taos, the School of Visual Arts in New York City and at the Institute Americaine des Universités in Aix-en-Provence, France. In 1998 Jan was selected by David Witt, former curator of the Harwood Museum of Art in Taos, New Mexico as part of a group of 14 artists forming "The Next Generation" of Taos artists. In 2003 Douglas Dreishpoon, Senior Curator of The Albright-Knox Art Gallery in Buffalo, NY, selected her to participate in Contemporary Art/Taos at the Harwood Museum of Art, along with other 16 other artists including Agnes Martin, Ken Price, Larry Bell and Ron Davis.
Douglas Dreishpoon writes of her work in the Contemporary Art/Taos exhibition as: intimate meditations, some enlivened with hand-drawn passages of graphite, they reflect a breadth of vision well beyond their size.

Sessler says of her work – Through a primarily intuitive process in my painting, printmaking and other media, I explore the mysteries of space, subtleties of color and touching the unknowable. The process of discovery along the way allows me to enter a meditative space where the unconscious and thought meet and interweave themselves as in a dance.